After enviously reading quilting blogs for months, I took the plunge and went along with the ever awesome @Jenepel to a quilting class at Ray Stitch in Islington.
One of the reasons I was so interested in learning how to quilt, and also why I never tried it on my own at home, is that it requires many different processes.
Where crafts are concerned, I don't like to spend too long doing the same thing (one exception being knitting, because I generally knit whilst watching TV, like my Mum did when I was little).
The thing is, many different processes also mean many different places where I could screw things up – which I wasn't too keen on given quilting fabrics don't come cheap, and mine were SO pretty. Behold Annali, designed by Stephanie Thannhauser for Dashwood Studio! I chose the collection for that gorgeous deep red fabric which is the backing of my quilt, and for the flowers and leaves multi coloured fabrics.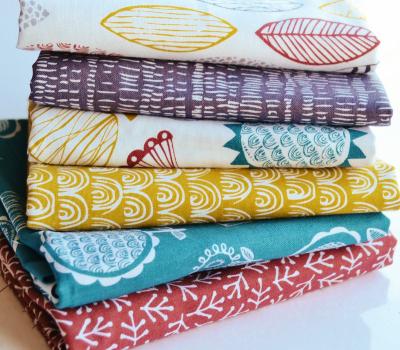 We picked this specific class because the aim was to make a full baby quilt in six hours. And we did it! We did overrun by an extra 45 minutes or so, but by the time we were through, we only had the very last step to do (a lengthy piece of hand-sewing). I'm saving it to do in front of the new series of The Great British Sewing Bee! Here's the almost finished quilt – with only one side of the binding left to hem.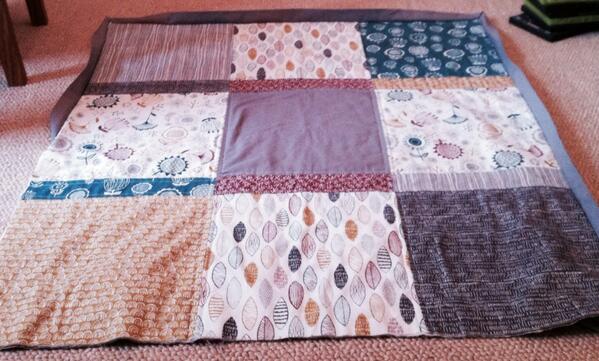 The class itself was lovely and our teacher Michelle was super helpful; she even made a special pattern for Jenn. and I because we had fabric pieces in a different size from what she'd asked for. With only six students, we each had plenty of time to get our head around all the processes and to ask plenty of questions. We picked up some nifty tips and tricks, like exactly where to pin our fabric for the best results and how to do the quilting itself by machine.
My attention span is abysmal, so the fact that each step can be done fairly quickly (ie. before I can get bored of it) really ingratiated quilting to me. I thought I would get annoyed with all the ironing (reading quilting blogs, it seems half of quilting is pressing the fabric!), but my main complaint versus ironing in everyday life is its uselessness. But it's obvious from the first press that ironing is really pretty useful in quilting, so I didn't mind it at all by the end.
Finally, let's be honest, the neat freak in me was deeply satisfied with the precise cutting, pinning & sewing of fabric pieces, the very regular hems, and the visible quilting in a straight line exactly 1cm away from each seam. The final product looks gorgeous, if I do say so myself, and certainly better than anything I thought I would produce. Look how well these corners fit together! I honestly thought my quilt would end up messier than this.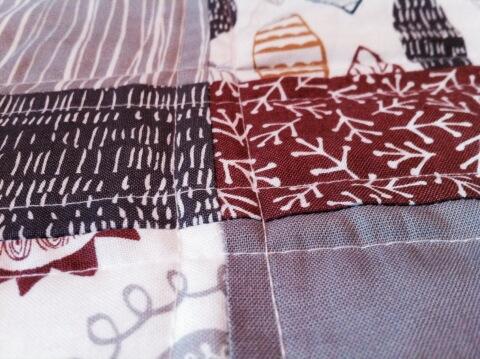 I'm very, very happy with this quilt. I'd say if you love crafts with lots of different bits and pieces to do, and you like things to be neat and precise, you should definitely try quilting. I thought it would be harder and more frustrating than it was, I definitely want to do more, though I'll have to practise my blind stitch for the final hem, because my hand stitching is SO not up to scratch for this.