Beneath the Sugar Sky by Seanan McGuire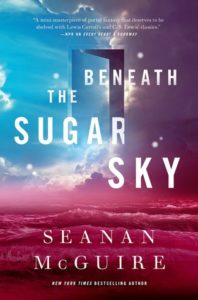 January 9 – Goodreads
Sumi died years before her prophesied daughter Rini could be born. Rini was born anyway, and now she's trying to bring her mother back from a world without magic.
This is the third novella in the Wayward Children series, which is all about children who've had adventures in portal fantasy worlds coming back to our mundane, everyday world and having to readjust to it.
I loved the first two novellas in this series so much, and I especially loved how wonderfully different from one another they were. Both have a great narrative voice, and read like dark, complex, detailed fairytales, and this next book sounds like it will be very much in the same vein, but once again exploring a completely different story. I've already pre-ordered it & I'm hoping it will get here soon!
On the Come Up by Angie Thomas
May 1 – Goodreads
The highly anticipated second novel from Angie Thomas, #1 New York Times bestselling author of The Hate U Give, returns to the world of Garden Heights in a story about an aspiring teen rapper and what happens when you get everything you thought you wanted.
The Hate U Give was the last book I read in 2018, and I found it such an impactful read! I loved the characters and their relationships, I loved the ways in which the book surprised me – mostly its focus was a tad different from what I expected – and I loved the focus on language, specifically slang and code-switching. I don't think I've ever read a book about an aspiring teen rapper, but hopefully that will change in 2018.
Artificial Condition by Martha Wells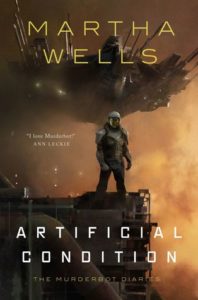 May 8 – Goodreads
It has a dark past – one in which a number of humans were killed. A past that caused it to christen itself "Murderbot". But it has only vague memories of the massacre that spawned that title, and it wants to know more.
Teaming up with a Research Transport vessel named ART (you don't want to know what the "A" stands for), Murderbot heads to the mining facility where it went rogue. What it discovers will forever change the way it thinks…

I loved the first Murderbot novella, All Systems Red; probably my favourite thing about it was how different Murderbot's voice felt – at the same time alien and relatable. I can't wait to read more about Murderbot, and to see it interact with a transport vessel as well as humans.
A Gentleman Never Keeps Score by Cat Sebastian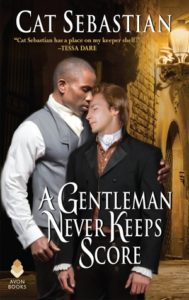 July 15 – Goodreads
This is technically the second book in Sebastian's latest m/m historical romance series, Seducing the Sedgwicks, but as with many romance series, each book can easily be read as a standalone.
I absolutely loved the first book in this series, It Takes Two to Tumble, which focuses on country vicar Ben Sedgwick & grieving naval captain Philip Dacre, so I would very much recommend picking this one up while you wait for A Gentleman Never Keeps Score.
All we know about this second book for now is that it's about Hartley Sedgwick, Benedict's younger brother, but by this point, I'll read anything Cat Sebastian writes, so count me in.
The Lady's Guide to Petticoats and Piracy by Mackenzi Lee
October 2 – Goodreads
A sequel to The Gentleman's Guide to Vice and Virtue, narrated by Monty's little sister Felicity. Features travel, pirates, and a science girl gang.
All of these things sound really great and I'm very, very pumped for this book. I liked Felicity a lot when I was reading The Gentleman's Guide, so I'm really happy to get a whole book from her point of view. In the first book, we learn that Felicity is studying medicine in secret and plans to be a doctor; since I'm a big fan of weird medical history, I can't wait for that.
The Widening Gyre by John Scalzi
October 16 – Goodreads
The second book in the Interdependency series is coming out this year! Goodreads had this one down as coming out in 2019 for a while and I was all sad and moppy about it, until I double checked the page the other day and found the new release date. I loved the first book so much, I'm excited not to have to wait a whole extra year for the next one.