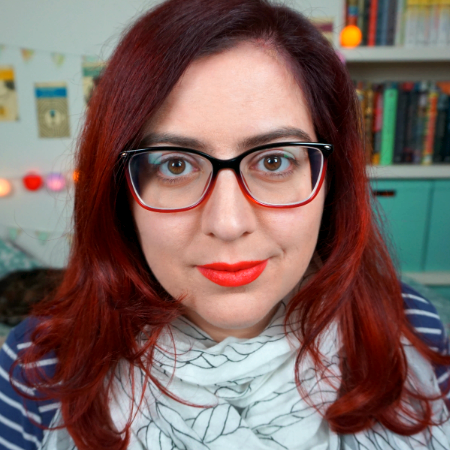 I'm a life-long science-fiction and fantasy fan, and an avid reader with a thing for dragons sharing a bond of friendship with humans, badass heroines dressing as boys to go to sea and magic being studied as a science. Non-SFF things that make me happy include gruesome Victorian medicine, obscure language facts, most food-related TV, the history of the labour movement, smart analytical podcasts and writing letters by hand.
Over at my YouTube channel, I make videos on all things bookish and fannish, ranging from reading wrap-ups and books reviews to in-depth videos on film and TV. I also have videos about writing & Nanowrimo up.

I've also been writing sporadically since I found Harry Potter fanfic in my teens. I'm a huge advocate of the Nanowrimo philosophy of just getting something on the page. I've participated every year since moving to the UK from France in 2008, I was a Municipal Liaison for London for a few years and I have five wins and four losses under my belt. I am great at starting new projects but not so great at finishing them, which is why I haven't finished a novel yet & I have about half a dozen fanfics in progress at the moment.
Probably true but you can't prove it:
Spends most waking hours online
Too many fanfic ideas, too little time
Will show you pictures of my cat
Can't stop making things
Always up for baking
Consumes way too much chocolate and coffee
Most likely listening to a podcast or audiobook right now
Head over to my Instagram for cat pictures: