Turns out I have to move in a few months' time.
This coming on the heels of my New Year's Resolutions to read more and discover new authors made me reconsider all the tsundoku I've been doing for years.
What is 'tsundoku' you ask?
Award-winning author Lauren Beukes tweeted about this fantastic Japanese word. Surely we need a word for that in English, right?

I'm very, very guilty of buying books that sound great and adding them to my ever-growing collection of books that sound great. Of course I read some and I start even more, but many remain unread. Inevitably, I forget that they're there and just buy some more.
Now that the terrifying prospect of piling all of my beloved books into boxes once again looms on the horizon, I know I've got to do something drastic. I hate the idea of downsizing my bookshelves, but how dumb is it that some of my books came with me from France four years ago, were subsequently moved twice, are about to move a third time and I have not read them yet?
On my To-Read List for the next few months: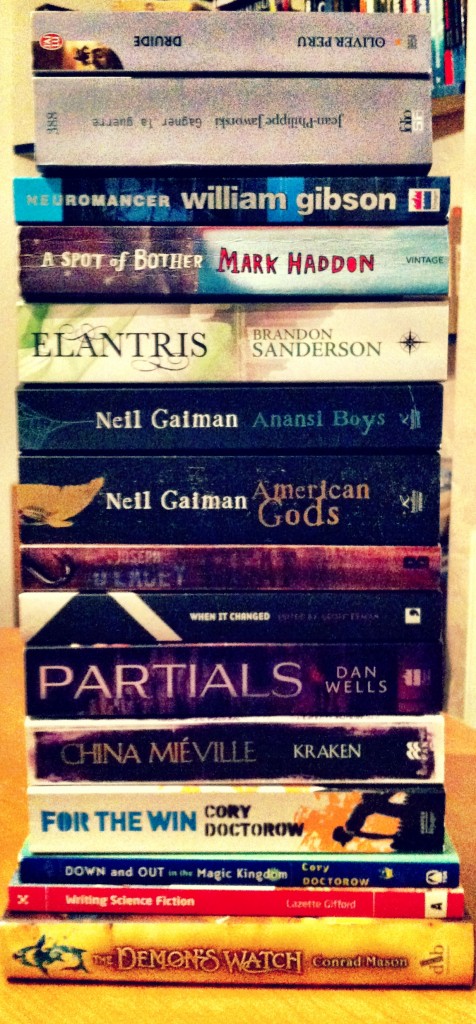 For The Win and Down and Out in the Magic Kingdom by Cory Doctorow
I ordered a couple of Doctorow's books after reading his novel Little Brother, which I absolutely adored.
Druide by Oliver Peru, Gagner La Guerre by Jean-Philippe Jaworski
When I visit my parents, we always end up visiting the nifty, giant independent bookshop in the next town over from them. This never ends in small purchases.
Elantris by Brandon Sanderson, Partials by Dan Wells
I'm a regular listener of Writing Excuses, the weekly writing advice podcast Sanderson and Wells are hosts on, so I was curious to read more of their work and keen to support them.
The Demon's Watch by Conrad Mason
A YA debut with cross-dressing and pirates, with a sequel out in a few months! Must get to reading this one.
Also on the list: China Mieville's Kraken, William Gibson's Neuromancer, Mark Haddon's A Spot of Bother, Neil Gaiman's American Gods and Anansi Boys, Joseph D'Lacey's Meat, Lazette Gifford's Writing Science-Fiction & When It Changed, and anthology of essays on Sci-Fi.
I can't be the only one with a book-buying problem. Let me know, what's in your stack of unread books and how do you plan to tackle it?