When The World Was Flat (and we were in love) – Review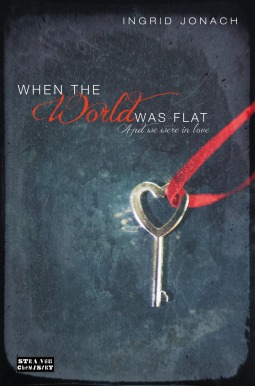 Author: Ingrid Jonach
Genre: YA sci-fi
Publisher: Strange Chemistry
Date: January 2013
Source: Net Galley
Buy the Book – Goodreads
Lillie is your average small-town-Alaskan high-school student. Crackpot hippie mother not-withstanding, Lillie's life is pretty normal until she starts dreaming of her own death, every single night.
Then new guy Tom strolls into school; he's handsome, rich & British, a swoon-worthy combination if there ever was one.
But he is also strangely familiar, Lillie instinctively knows things about him she couldn't possibly know. Do they really have some kind of weird connection, or is a simple teenage crush making her read way too much into Tom's every word or gesture?
The beautiful cover and intriguing title should give you an idea of the lyrical, atmospheric flavour of the book. It doesn't lack in sass either, with Lillie's opinions and descriptions rendering the small town and its inhabitants in vivid detail. I was particularly impressed with the expert portrayal of teenagers, which hit just the right notes of frailty, bravado and cruelty in turn. The parade of couchsurfers moving in and out of Lillie's living room never failed to provide comic relief.
The revelation of a supernatural aspect to the plot came fairly late, allowing the high-school drama to take front and centre stage for the first half of the book. That's a relatively large portion of the story which is solely dedicated to Lillie's everyday life, as well as that of her family, friends, frenemies, and even the town.
This early focus allowed the reader to immerse in Green Grove sufficiently to understand exactly how devastating an impact the later reveals could have.
One initially very sympathetic character turns suddenly sinister shortly after the central crux of the story is finally revealed, and the reader feels this twist all the more cruelly for this attention paid the character in question early on.
The lack of a supernatural plot-twist before the mid-point also provided its own little pinch of suspense. There is a certain amount of meta at play; when you pick up a book from a genre publisher, you expect some kind of science-fiction or fantasy element.
Yes, the weird dreams could just be dreams, except the reader knows they're not. I spent the first half of the book wondering, at the turn of every page, is this next one the page I'll find out?
By the time Lille finally gets told what is going on, the seasoned genre reader will have probably guessed the most likely answer (I did), but Jonach builds on the beloved sci-fi concept and creates a beautiful, multi-layered hidden fantasy world. There is almost a bit of cognitive dissonance between the high-school drama and high-concept sci-fi portions of the story, but if you enjoy both genres, like I do, you will love both halves equally.
I read this book on holiday and I must say it was close to the perfect summer read for my taste – a fun, witty story, with enough emotional resonance to make me root for a happy ending, none of the unnecessary sap I always dread from romances, and a decent grounding in sci-fi without any arduous info-dump. It feels great sometimes to step back and read a story not about the end of the world, but the tearing apart of someone's little world, which is just as dramatic when it's done well.