This week on Top 5 Wednesday, it's all about spoooooky Halloween recommendations! I didn't have time to film a video, but I still wanted to get in on the action this week, as I love recommending books.
Nightfall, Isaac Asimov & Robert Silverberg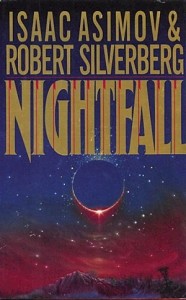 Nobody the planet Kalgash has ever experienced full darkness or even seen the stars, bathed in the ever-present light of their six suns. But once every two millennia, a rare eclipse plunges the world into night. When the suns start setting one by one and night falls for the first time in living memory, the terror of darkness overthrows civilisation & brings with it unfathomable chaos & destruction.
This novel would make a great read any time of year, but it's perfect for Halloween, because of the tension that's maintained throughout. In the first part of the book, there's a great sense of upcoming dread as the protagonists slowly discover that a full eclipse is imminent. Of course they try to predict the possible consequences, prevent some of them & prepare for what they can't avoid, but there isn't much they can do to keep chaos in check. If you liked The Day of the Triffids, you'd enjoy this, I think.
Coraline, Neil Gaiman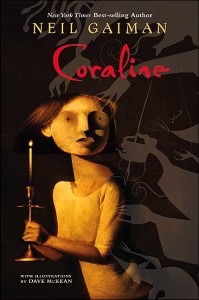 A mysterious passageway leads Coraline from her the drawing room into a flat decorated exactly like her own, but strangely different, and into the arms of her "other" parents. They're much more interesting than her own, despite their disturbing black button eyes, but they want to keep her forever & Coraline isn't keen on having buttons sawn into her eyes. With only the help of a bored-through stone and an aloof cat, Coraline sets out to rescue her real parents & the three children trapped in the mirror.
This exquisitely creepy story is my favourite Neil Gaiman book and is about a bajillion times scarier than the blurb would have you think. It's a fast read & a perfect Halloween treat. I'd recommend reading it first, then watching the beautiful stop-motion film by Henry Selick (who also directed The Nightmare Before Christmas).
Maplecroft, Cherie Priest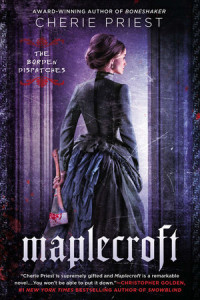 "Lizzie Borden took an axe and gave her mother forty whacks; and when she saw what she had done, she gave her father forty-one…"
Lizzie was found innocent of the murders, but the entire town of Fall River, Massachusetts still suspects her – and why should they not? Lizzie did kill her father and his second wife. Or what was left of them. Now Lizzie lives on the edge of town in a big house with a reinforced basement where she is free to study the malevolent entities that crawled from the depths of the ocean and consumed the souls of her parents. No matter what guise this evil assumes, Lizzie will be waiting for it. With an axe.

Cherie Priest's take on the aftermath of the Borden murders gives us Lizzie and her trusty axe standing as Fall River's last defence against unspeakable evil, even as the townspeople continue to fear her as a ruthless murderer. It's an absolutely chilling story, bathed in a sinister, Lovecraftian light: I loved it A LOT.
It's no news around here that I LOVE Cherie Priest's work, partly because she tends to focus on things I'm very much interested in too. This is no exception, Maplecroft does tick a lot of my boxes: it's a historical fantasy with gothic undertones, it features the fantastical/the arcane being studied as a science, and it's an epistolary. Just writing this little snippet makes me want to re-read it! Lucky for me, Chapelwood (the Borden Dispatches #2) has just come out & my copy arrived yesterday!
Carmilla, J. Sheridan LeFanu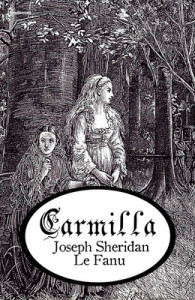 Eighteen-year-old Laura lives alone with her widower father in an isolated Austrian castle, until one day, an unexpected carriage accident brings Carmilla into their midst. On meeting her, Laura recognises Carmilla as the beautiful visitor that came to her bedchamber in a dream when she was six years old.
Yet more of the gothic vibe for me this Halloween! An early work of vampire fiction, Carmilla was published over 25 years before Bram Stoker's Dracula. I had heard of it when I took a Gothic Literature class at university but I hadn't read it yet, so I decided it was high time to pick it up. I've only just started it, and even though the language is quite flowery & overwrought, I'm really intrigued by it so far. It's also been adapted into a webseries by the people who made The Lizzie Bennett Diaries, so I'm looking forward to watching that!
The Three, Sarah Lotz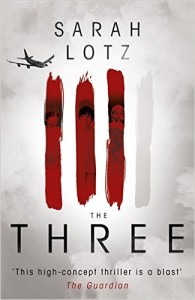 Out of the wreckage of four simultaneous plane crashes, three child survivors are found. Amidst global panic, officials frantically search for the cause of the crashes, the press focuses its relentless attention on 'The Three' and their trauma-induced behavioural problems, and the charismatic leader of a rapture cult insists the children are three of the four harbingers of the apocalypse. Forced to go into hiding, the children's behaviour becomes so disturbing that even their guardians begin to question their miraculous survival…
I picked up this book at Nine Worlds, and I must confess that I haven't read it yet. I wasn't going to include it here, but Sarah Lotz has just won a British Fantasy Award: Best Newcomer for The Three this week-end! Huge congratulation to her, and now this book has just jumped right to the top of my TBR pile. I'm hoping to get to it right after Carmilla!
I hope you enjoyed these spooky Halloween recommendations, let me know what's on your TBR this week in the comments below and, as ever, if you have any reading recommendations for me based on those books, please do let me know!