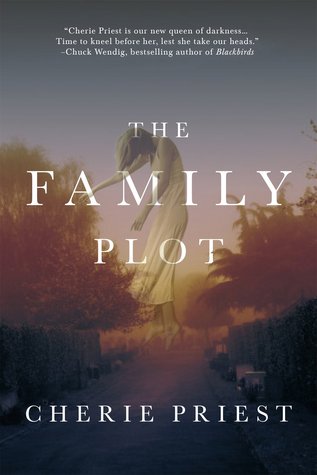 Author: Cherie Priest
Genre: Horror
Publisher: Tor Books
Date: 20 September 2016
Source: Publisher
Buy the Book – Goodreads
The Family Plot is a haunted house story for the ages-atmospheric, scary, and strange, with a modern gothic sensibility to keep it fresh and interesting-from Cherie Priest, a modern master of supernatural fiction.
Oh hai, if it isn't the latest release from one of my favourite writers! I didn't know quite what to expect from The Family Plot since I'm honestly not that well-versed in ghost stories, but I really enjoyed it. The characters are great, the stakes are believable, the ghosts are pretty darn creepy and the mystery behind their need for revenge is very gripping. Also, THAT ENDING!
Check out my review video if you want to hear more of my thoughts on The Family Plot, and enter the giveaway below for a chance to win your own copy. The giveaway is open internationally until midnight on October 24th and the winner will be selected at random by Rafflecopter.
---
The review:
The giveaway: