It's Diverseathon time* again!
Diverseathon is a week-long readalong taking place from January 22nd to January 29th, and it's organised by Christina Marie, Joce of SquibblesReads, Monica of She Might Be Monica, and Whitney of WhittyNovels. There are no real rules, the stated goal is to read more diverse books but that's left fairly open to interpretation. I'm choosing to read Own Voices books, ie. books about people with marginalised identities that were written by people who share those marginalised identities.
I believe that second part is crucial because in addition to being severely under-represented in books, marginalised identities are severely under-represented in the publishing industry and book-reviewing community. As an ally with many factors of privilege, I want to support and signal boost the voices of marginalised people telling their own stories.
And now onto the books!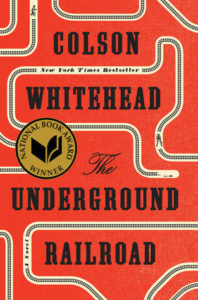 Cora is a slave on a cotton plantation in Georgia. Life is hellish for all the slaves but especially bad for Cora; an outcast even among her fellow Africans, she is coming into womanhood – where even greater pain awaits. When Caesar, a recent arrival from Virginia, tells her about the Underground Railroad, they decide to take a terrifying risk and escape. Matters do not go as planned and, though they manage to find a station and head north, they are being hunted.
In Whitehead's ingenious conception, the Underground Railroad is no mere metaphor – engineers and conductors operate a secret network of tracks and tunnels beneath the Southern soil. Cora and Caesar's first stop is South Carolina, in a city that initially seems like a haven – but the city's placid surface masks an insidious scheme designed for its black denizens. Even worse: Ridgeway, the relentless slave catcher, is close on their heels. Forced to flee again, Cora embarks on a harrowing flight, state by state, seeking true freedom.
This is the group read that participants are encouraged to pick up, which is how I first heard about it. I originally assumed it would be a non-fiction work about the Underground Railroad, and I was alreay pretty excited about that concept, but it turns out it's a novel that features an actual clandestine railroad! I must confess, I do really like stories set on trains or that have trains in them. I got the audiobook of this one, it seemed only fitting that I should listen to it on my commute, since that is made of trains.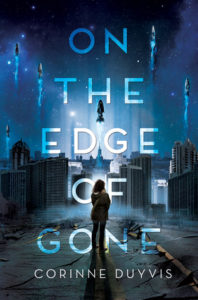 January 29, 2035. That's the day the comet is scheduled to hit—the big one. Denise and her mother and sister, Iris, have been assigned to a temporary shelter near their hometown of Amsterdam to wait out the blast, but Iris is nowhere to be found, and at the rate Denise's drug-addicted mother is going, they'll never reach the shelter in time.
Then a last-minute encounter leads them to something better than a temporary shelter: a generation ship that's scheduled to leave Earth behind and colonize new worlds after the comet hits. But each passenger must have a practical skill to contribute. Denise is autistic and fears that she'll never be allowed to stay. Can she obtain a spot before the ship takes flight? What about her mother and sister? When the future of the human race is at stake, whose lives matter most?
The premise of an Earth that knows it is about to be devastated by an asteroid and the subsequent conflict about who and what to save and prioritise isn't new in SFF; there's a long tradition of using robots, aliens and artificial intelligences as metaphors to discuss those themes, it's great to see works that explore those same ideas through actual marginalised people interacting with a science-fictional world. This novel came out in 2016 and it's one of a giant pile that I want to get read before the nomination period for this year's Hugo awards closes.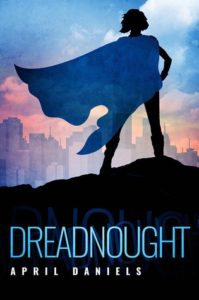 Danny Tozer has a problem: she just inherited the powers of the world's greatest superhero. Until Dreadnought fell out of the sky and died right in front of her, she was trying to keep people from finding out she's transgender. But then her second-hand superpowers transformed her body into what she's always thought it should be. Now there's no hiding that she's a girl.
It should be the happiest time of her life, but between her father's dangerous obsession with curing her girlhood, her best friend suddenly acting like he's entitled to date her, and the classmate who is secretly a masked vigilante, Danny's first weeks living in a body that fits her are more difficult and complicated than she could have imagined.
I've just received an ARC of this upcoming YA novel via NetGalley and I couldn't be more excited that it came in time for me to read it for Diverseathon! The premise of this novel is just fascinating, with a conflict that seems immediately real and poignant for all that entirely foreign to me, as cisgender woman. What a perfect illustration of why we need not only diverse books, but specifically diverse books written by marginalised people about their first-hand, lived experiences.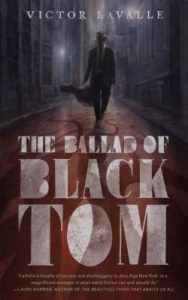 People move to New York looking for magic and nothing will convince them it isn't there.
Charles Thomas Tester hustles to put food on the table, keep the roof over his father's head, from Harlem to Flushing Meadows to Red Hook. He knows what magic a suit can cast, the invisibility a guitar case can provide, and the curse written on his skin that attracts the eye of wealthy white folks and their cops. But when he delivers an occult tome to a reclusive sorceress in the heart of Queens, Tom opens a door to a deeper realm of magic, and earns the attention of things best left sleeping.
A storm that might swallow the world is building in Brooklyn. Will Black Tom live to see it break?
I'm not sure I'll have time to get to this novella during the readathon, but I still wanted to include it, as it was published in 2016 and is therefore eligible for Hugo award nomination. I've not read anything from this author before, but this novella is part of Tor.com Publishing's widely acclaimed novella imprint, and by this point I trust the team of Tor.com to pick stupendous work. I'll happily pick up anything they publish and give it a whirl these days.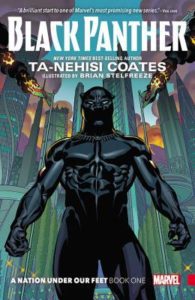 A new era begins for the Black Panther! MacArthur Genius and National Book Award winner Ta-Nehisi Coates takes the helm, confronting T'Challa with a dramatic upheaval in Wakanda that will make leading the African nation tougher than ever before.
When a superhuman terrorist group that calls itself The People sparks a violent uprising, the land famed for its incredible technology and proud warrior traditions will be thrown into turmoil. If Wakanda is to survive, it must adapt–but can its monarch, one in a long line of Black Panthers, survive the necessary change? Heavy lies the head that wears the cowl!
I've never read any Black Panther comics but I definitely enjoyed T'Challa in The Avengers: Civil War (it was NOT a Cap movie, fight me), so I'd like to check this one out. Most of it should be on Marvel Unlimited by now, so it should be easy to get a hold of, and it also doesn't hurt that I've heard nothing but praise for Ta-Nehisi Coates' writing! This volume came out in 2016, so it is eligible for Hugo award nomination – another excellent reason to get to this one sooner rather than later.
*The challenge actually started yesterday and I'm posting this TBR late because I am a muppet and misremembered the start date. I'm a week-starts-on-Monday kind of girl and things starting on Sunday confuse me.