So I meant to do some work this week-end, then this wonderful indie game came out and time kind of disappeared.
FTL: Faster Than Light is a real-time, perma-death spaceship simulation inspired by classic sci-fi TV shows.
It aims to "recreate the atmosphere of running a spaceship exploring the galaxy".
The idea is that on Star Trek, BSG or Firefly (think Out Of Gas) there's always something catching on fire, a breach in the hull sucking out the oxygen, a boarding party intent on taking your ship for scrap metal, etc…
The thing about FTL is, it's actually quite hard. Even pausing the game every time I need to make a decision during battles and playing on easy, I haven't gotten even close to finishing it yet.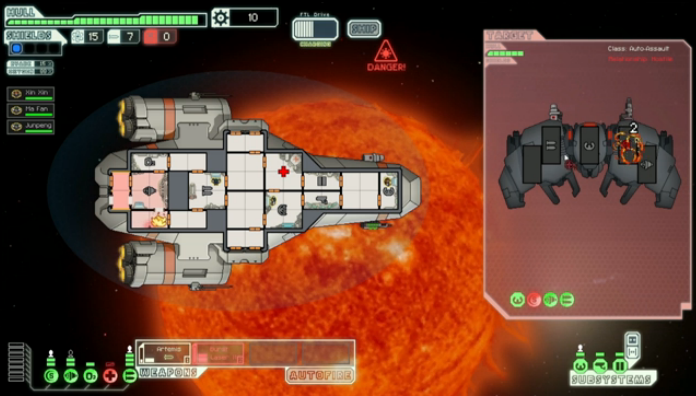 This may be due to the fact that I have a very poor attention span, and not much experience of sticking with games until I got really good at them, or maybe it's because I take undue risks (by which I mean I go 'SMASH! PUNY PIRATES!' before I'm even done reading the explanatory text).
FTL also boasts proper old-time graphics and a lovely score. I'm not usually one to notice music in games but I love what they've done here, especially the Rock-people's theme. The nostalgic aesthetic definitely appealed to this nerd.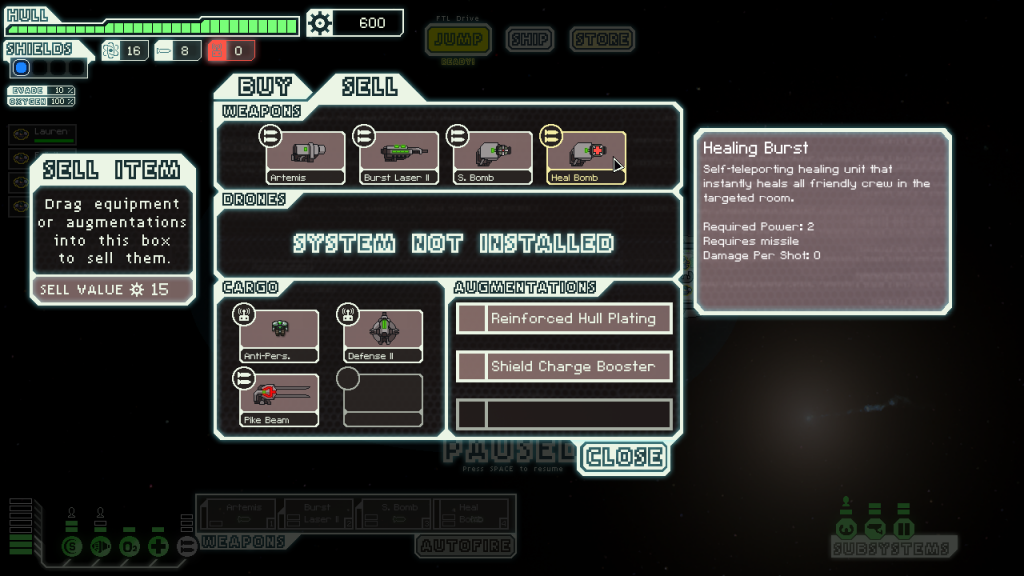 The starting ship looks like it was plucked out of Firefly, so I renamed her Serenity and made my starting crew Mal, Wash & Kaylee. It was REALLY cool until I got a hull breach in the O2 room and Kaylee suffocated trying to fix it. Of course the rebels kept firing at my ship while I was busy staring at the screen in horror and yelling 'NOOO KAYLEEEEE!', so the hull breach got worse and the ship blew up.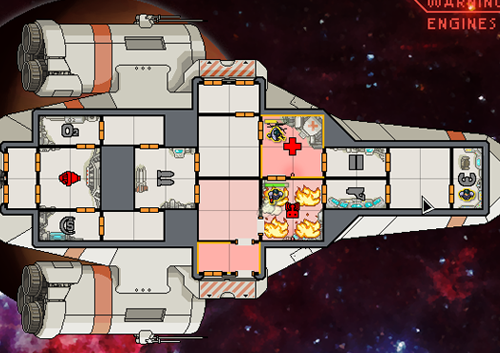 This game is unpredictable, addictive, very easy to pick up but complex to master and I absolutely love it. You should go and buy it now for only $10. It's available on Steam, but you can get a DRM-free version on www.ftlgame.com.