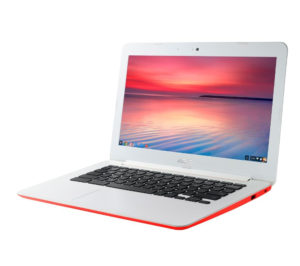 I've only had the chromebook for a few days but I've been very impressed with it so far. I've tried many different combos of desktop and laptop found the perfect combination that works the best for me and my usage. it's a bit too early to say whether a well optimised desktop which I can upgrade in the future and a lightweight chromebook are the solution but it is looking positive so far.
First, a bit of background:
For at least three years, my main computer was a 15-inch ASUS laptop I bought new in 2012. Even at the time, it was reasonably priced (£400, iirc). I made all of my videos on that laptop for the first year of the channel, and still used it regularly once I got my hands on an old desktop for editing.
A few months ago, I build a desktop computer optimised for video editing (it was such a great process: I learned about computer specs in more detail, honed my parts list until Reddit approved of it, then had a friend over to show me the ropes of actually building the thing). That's now what I use to make all of my videos, for everyday internet browsing & the occasional bit of gaming.
So now I have a desktop that runs significantly faster, smoother and overall better than my laptop, and that means I hardly ever use the poor, neglected laptop. The only times I've reached for it in the past few months have been to go and do some writing outside of the house, which a bulky 4-year old laptop is hardly suited for: it's quite heavy (it hurts my back to carry it for too long), takes ages to turn on and keeps freezing & going all 'blue screen of death' on me.
So I decided to go hunting for a new laptop specifically for carrying out and about, hence…
The Chromebook C300:
The Chromebook does take a bit of getting used to and it is certainly not for everyone, nor the same as a full laptop, but it has definite advantages if you're after something lightweight & portable.
I'm not going to lie, the main reason I decided to go for a Chromebook was the price: I know there are very high-end Chromebooks but this model has modest specs, and will only set you back £199. Mine is a factory refurbished unit, so I got it for £129! There's supposedly some cosmetic damage on it that caused it to be reduced but I honestly can't see any marks or scuffs, it looks perfectly new to me.
As advertised, the chromebook turns on near instantly and is ready to go as soon as you input your password (that's true for the initial setup as well as everyday use). I'm not entirely happy with how I've arranged my Google accounts and my apps yet, but it's only been a few days. I've never really explored browser apps before, so the ones I have so far are things that have a direct phone app equivalent. Even then, I've already found a free video editing suite and image editor. If you have any tips on apps to use, leave them in the comments please!
I was on the tube the other morning for six stops (about 15 minutes), and I had time to take my chromebook out, turn it on, log into the right account, get into my writing app and do almost 200 words on a short story outline. As soon as the train started pulling into my station, I saved my work, shut the chromebook, put it into my bag and I was out the door without having to hurry. I've done this with other computer and had to walk out of the tube carriage with the laptop under my arm so I could fix my bag on the platform… Not an ideal situation.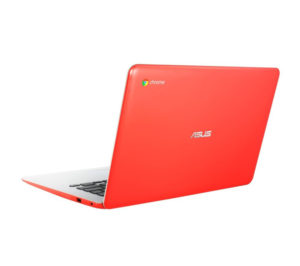 This is definitely the quietest computer I've ever owned, I can't hear it at all when it's on & when I turn it off there's only the tiniest difference. That's pretty impressive considering I used to have to turn off my previous laptop when I filmed videos to avoid its whirring making it onto the recording.
The battery life also seems very promising: once fully charged the Chromebook promises me over 12 hours of battery life, removing the need to carry the charger around, ie. another victory for lightweight & portable. I haven't tested that very thoroughly so far (I've only had it for a few days), but after a full charge and three days of moderate use on the go and at home, the battery is at 54% with another 5 hour 20 remaining.
I know some people might not like the obnoxiously bright red order shell I picked but for me it's a big bonus. Every time I look at it, it makes me smile, it's such a cheerful tone of red. The inside shell around the screen and keyboard is white with regular black keyboard keys, so the colour isn't actually distracting when you're trying to work.
Overall it's a gorgeous little machine and I always want to have it out with me so I can show it off. As long as you know what you're buying (translation: as long as you don't expect to get a full laptop!) and don't mind having to learn to use a new OS provided by our benevolent Google overlords, it's a really choice in my humble opinion. I'll let you know if the honeymoon period wears off but it's looking good so far!