It's that time of year again!
Around the world, many a brave, foolish soul is starting a brand new novel for National Novel Writing Month. Not so with me…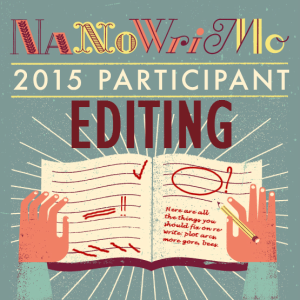 I'm still kind of participating, because how could I not? But, for the first time in all my years of Nano-ing, I don't have a wordcount goal. YIKES.
That's because, right now, I'm editing The Paradise Swarm.
I have plenty of ideas for new stories but stopping my edits to write something new would just be giving in to the temptation of the Shiny New Idea (sooo tempting!) and leaving this novel hanging.
I know what I need to do now is FINISH THIS BOOK, if only to gain the experience of getting to the end of a novel.
I've completed five Nanowrimos, and taken a good chunk out of two more, it's something I know I can do. I haven't completed a novel yet, so I'll work on that.
Here's how it is going to work
My plan is to do 50 hours of edits in November: it's a big chunk of the work, more than an hour a day, and obviously I like that it keeps the magic number 50 in the equation.
I'm not sure how to log it on the Nano website, or even if I should – some people have suggested I put down 1,000 words for each hour of editing, since that would give me a win once I reached 50, but I'm not sure about that idea.
I write quite slowly and I know I'd never reliably 1K an hour all November long, so it doesn't feel quite write to equate 50 hours of work with a Nanowrimo win when I normally put in about double that amount of time.
My Book Progress
Luckily, this new progress bar widget I backed on Kickstarter just funded, so I can use this as well as (or instead of?) the wordcount feature on the Nano website.
MyBookProgress looks pretty nifty so far, although it doesn't have an option to log hours at the moment – I've suggested that for a future update. So, for now, I've set my goal as 50 scenes edited in November, which is a bit more of an ambitious goal than 50 hours – but ambition is no bad thing, especially not in November!!
I've only done an hour so far (coincidentally, I did a full scene then as well if a short one), but I should be able to do more this evening!
The Nanowrimo Tag
If you'd like to hear more about my Nanowrimo experiences in general, check out the Nanowrimo Tag: