The Hugo Nominations came out last week and I am pretty darn excited about most of them. But there were also some deeply problematic things on the ballot, and there has consequently been a lot of discussion about how to handle those.
Here's my take on things:
Vox Day does not deserve my time
I'm not going to read that story. It might be all right, it might be offensive, I don't really care. I know some people advocate judging the fiction separately from its author, but I just can't do that. I already know that I won't vote for Vox Day.
Look, I've paid money to be able to participate in a proud tradition of SFF fandom. I'm so giddy that I'll be able to attend the Hugo ceremony this year. I'll be damned if I'm going to facilitate a man who has voiced such loathsome opinions to get up on stage at the Hugos and open his mouth.
So if I know I won't vote for him, no matter what, why should I bother reading his story? Life is too short to give a man like that the courtesy of my time.
Not sure Larry Correia does either?
I've heard Correia speak on various podcasts before and while he never came across as a particularly nasty piece of work, I did not appreciate the tone or content of his voting slate blog post. The fact that he recommended Vox Day's story really does not ingratiate him to me. I also have absolutely nothing in common with his target audience of, as he puts it, 'gun nuts'.
But with the Hugos, we're voting for the stories, not the authors. Surely if I don't object to him as strongly as to Vox Day, I should read his book and judge it fairly. Well maybe.
His nominated work is the third novel in a series – now, I'm the first to admit I have a chip on my shoulder about works that do not stand alone being nominated for Best Novel. I dislike those because they pose an ultimatum: read all the books that came before, or judge something out of context. Last year I attempted to read Captain Vorpatril's Alliance without having read any other in the series and it was such an unpleasant experience reading it out of context that it's pretty much thrown me off of ever reading the Vorkosigan novels.
So I'm not sure I'll read Correia's novel. The odds are so small that I would like it at all, it hardly seems worth it. Particularly in a year where I am so enthused by the rest of the ballot: I want to read all the zines, the non-fiction writing, the non-Vox Day short fiction. I'm excited about finishing Parasite, reading Ancillary Justice and Neptune's Brood. And if I decide to start on The Wheel of Time, goodness knows I won't have a spare minute to give Warbound.
In short, Larry Correia's attitude has pushed him to the bottom of the To Read pile, and we all know how often I get to the books stashed down there.
Time? What time? I have no time, I have to read these 14 door-stoppers
And so we come to the thorny question of The Wheel Of Time, which was nominated in its entirety in the Novel category. A lot of the complaints I've heard were that it's a joke for a 14 book series to be nominated as one very, very long serialised story. But the rules are very clear that it is eligible; if it weren't, the Hugo Committee would not have let it be on the ballot. They will strike things out if they are found to be ineligible.
Apparently there were also complaints about the quality of the work, but these seem simply unjustified to me. I personally think 'The Name of The Doctor' was pretty bad, but I'm not arguing that it shouldn't be on the ballot. I just won't vote for it. If we all agreed on what's good, we wouldn't need the awards at all.
My own complaint is more that it feels unfair to people who are not already fans of The Wheel Of Time. I have every sympathy for fans wanting to posthumously honour Robert Jordan by nominating the whole series rather than the latest instalment alone (written by Brandon Sanderson, who was chosen to complete the series after Jordan's passing).
However, this means that where I could read Captain Vorpatril's Alliance as a stand-alone and judge it as such, I can't do that with The Wheel Of Time. The whole story is nominated, so I'm being asked to have an opinion on 4, 410, 036 words. More than FOUR MILLION WORDS.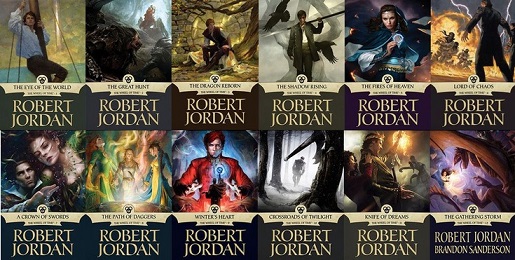 How do I do that in four months? Do I not read the other nominated works? Do I use a time turner? I make an effort to read a lot and I know I like at least Sanderson's writing but even so, 14 books in 4 months is a tall order. Even if I bought all 14 audio books (which I won't because that would be a ridiculous amount of money), it would still be 461 hours of narration.
What if I can't do it? I can't compare something I've read to something I've not read. I can't have the same voting experience as someone who has already read all or most of the books. That is taking a choice away from me in this contest, it is disenfranchising me from this vote. It's like saying 'You haven't already read The Wheel Of Time, therefore your opinion isn't valid here.'
I work for an election provider, so from a professional standpoint I can say that disenfranchising voters from ballots they are eligible to vote in is officially really, really bad. From a personal standpoint, it feels like the old guard of fandom is telling me I'm not a part of their club because I've not read this one specific thing. Either way, it's hurtful, unfair and plain annoying.
If you have any suggestions as to what I could or should do about The Wheel Of Time, I would love to hear them. Let me know in the comments or on twitter, because I think I might like it, if I didn't feel so annoyed at it!